Bruschetta with White Beans, Tomatoes, and Fresh Herbs
loof751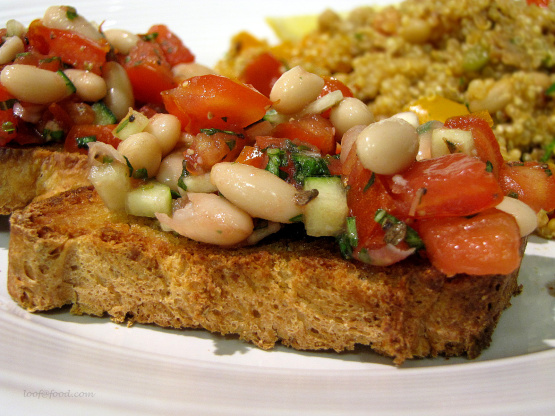 This is a nice fresh bruschetta! I brushed the olive oil and garlic on the bread before toasting. I tasted the veggie mixture before topping the bread and thought it needed a little something so I added just a few dashes of balsamic vinegar and that did the trick. I thought the cucumber was an unusual addition but it added a nice little crunch. Thanks for sharing the recipe!
For the topping, combine all of the topping ingredients in a small bowl, with salt and pepper to taste.
Mix very well and refrigerate for at least 2 hours for the tastes to blend together.
For the bruschetta, toast or broil the bread slices so that both sides are golden brown.
Cut the garlic in half and rub generously over one side of each slice.
Brush the olive oil over each side as well.
To serve, top the bruschetta with the bean and herb mixture while the bread is still hot, if possible.