3 Reviews
Just like the other reviewer said, I'm very glad that I tried this version of bruschetta - it was fantastic! I couldn't find any decent cherry toms so I used 2 large regular tomatoes instead. Otherwise I made as written except for cutting down the jalapeno to about 1/4 of what was called for. You could make the tomato topping ahead of time and really whip this up at a party pretty easily. .... enlist helpers to rub the raw garlic on, which I agree is a must...don't skip that step! The amount of topping I made, with just the 2 tomatoes, was the perfect amount for about 1/2 a baguette (12 slices). Everyone was disappointed that I hadn't made more so I may make again tomorrow with the other 1/2 of the baguette. Thanks Rita! Made during ZWT7.

We made this on the grill and it was amazing! The crowd loved it and we had nothing left. MAKE THIS ONE you will be glad you did.
This has potential for being the best bruschetta I ever tasted! The only thing I think it needs is vinegar (preferably balsamic). I tasted it without, and it was still great, but I did add vinegar before serving. Rubbing the toast all over with a garlic clove is essential for an excellent bruschetta. I left out the jalapeno for the sake of my BF, and other than the additional vinegar, that was the only change I made. Really great, I am a real bruschetta (bread and tomato) fan and this was extremely satisfying. Thanks Rita!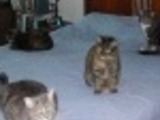 Bruschetta With Roasted Garlic and Cherry Tomatoes