Bruschetta With Avocado and Chilli Pepper Topping
Prep 10 mins
Cook 15 mins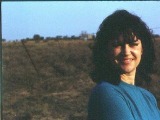 These snacks remain popular and do not present many problems for the cook. Here's a change from the tomatoey ones.
Directions
Heat oven to 350 deg F/180 deg Celsius.
Slice baguette on the diagonal (you'll get more slices than you need, but bake them all and save the rest in an airtight container for later use).
Brush with olive oil or butter, and bake in single layer until golden and quite crisp.
Meanwhile, peel and cut avocado's in small cubes in a bowl, add the onion, lime juice, chopped hot pepper (remove seeds!), basil and olive oil.
Season with salt, and toss lightly.
Remove 9 crisp golden bread slices to a serving platter, and place a spoonful of the avo relish on each.
NOTE: Be careful with the chilli pepper or paste: you don't want it too hot. Use less if pepper is very hot.
Most Helpful
Another winner!!! I made this for Spring PAC 2014 and served it along with your recipe#173398#173398 and a green salad and DH was in heaven. Definately recipes I will make again. Thank you for posting.
Very nice, Zurie. This is a very refreshing appetizer. I just threw these together last night as a snack for myself (I was not hungry for dinner, but I still wanted something to munch on). Instead of making my own crustini I used pre-packaged ones along with garlic bagel chips. Everything else I did the same way, and it was great. Thanks!! :)
the avo bruschetta was a hit. this recipe doubles as some fantastic guacamole. the basil adds a unique flavor that i hadn't thought of for my guac. very good.