Bruschetta-Stuffed Chicken Breasts
Bayhill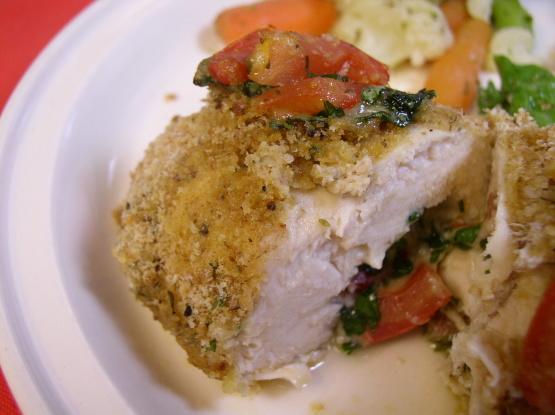 Delicious and healthy. I've been experimenting with different flavours of stuffed chicken lately, and this newest combination reminds me of all the freshness of a summer garden.
I made this tonight and it was excellent. Easy to make and delicious.
Preheat oven to 350°F.
Mix diced tomatoes, chopped basil, and cheeses in a bowl with olive oil.
In a separate bowl, combine bread crumbs, oregano, garlic powder, salt, and pepper.
Place chicken breasts, one at a time, into a zip-top bag. Pound with a tenderizing mallet or a rolling pin until uniformly about 1/4" thick.
Distribute tomato mix evenly on top of the chicken breasts. Roll each breast up, starting from one of the narrow ends. Moisten with water and roll in bread crumb mixture.
Bake for approximately 30 minutes.
Optional: about 5 minutes before cooking time is up, top each breast with a little of the reserved tomato mix. Continue baking until cheese is melted.