Prep 15 mins
Cook 15 mins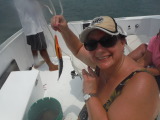 A Friday night appetizer with what I had in the house.
Directions
Spray pan with non-stick spray.
Arrange mushroom caps in pan, season to taste with salt, pepper & Italian Seasoning. Break Gorgonzola into pieces that will fill the mushroom caps - plop the Gorgonzola into the hole left from the stem.
Combine tomatoes, basil, garlic & balsamic, season to taste if desired. Spread tomato mixture over mushrooms stuffed with cheese. Sprinkle with mozzarella. Bake at 350°F until mushrooms are cooked through and cheese is melted.
If you like browned cheese (YUM) hit it with the broiler for a few minutes.
Most Helpful
I loved all the ingredients separately, but all together it didn't quite live up to my expectations. All in all, this was pretty good. Thank you for posting! I enjoy your recipes! :) Edited to say, my DH loved this! So I'm giving it 4 stars.