-Sylvie-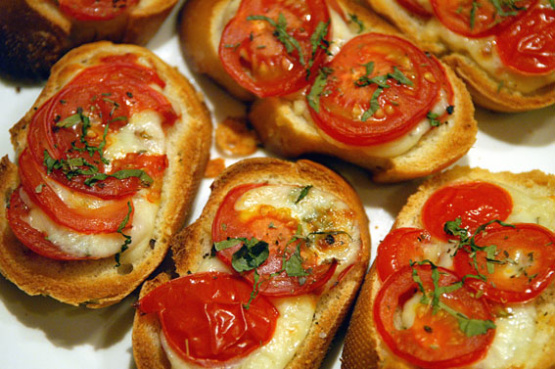 I made this for my son's 9th birthday party as an appetizer for the adults. Let me say, this recipe was so good that after dinner I had to whip up another batch for guests who arrived after appetizers were served because everyone raived about them.

This was really simple and good. My baguette was rock hard by the time i decided to try this out, so i had to use regular bread, but the recipe still prevailed. This was good eats. Thank you.
Preheat oven to 350 degrees F (175 degrees C).
Slice the baguette into 1/2 inch thick diagonal slices.
Arrange the slices in a single layer on a baking sheet.
Brush both sides of each slice with the olive oil.
Place tomato slices and a sprinkling of basil and oregano on the bread slices.
Sprinkle the tomatoes, basil and oregano with the garlic powder and white pepper.
Cover the tomato slices with slices of the mozzarella and provolone.
Place more basil, oregano and tomato slices on top of the cheese.
Bake in the preheated oven for 7 to 10 minutes, or until the cheese is bubbly.