Swirling F.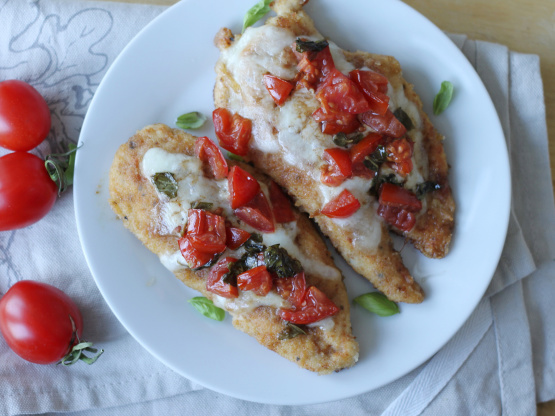 After making fresh batch of bruschetta one day, I decided to use it on chicken instead of on toasted baguette. This has become one of my family's favorite meals. It is sweet, tangy and salty all at once.

Absolutely fantastic. My husband took one bite and said "this is delicious!!" I tripled it to have enough for company tomorrow and I'm glad I did. This is a restaurant-quality dish and a new favorite in our house. Thank you for posting!
In a medium bowl, whisk together the olive oil and balsamic vinegar. Stir in the basil, garlic powder, onion salt and tomato. Season with pepper to taste. Allow to sit for at least 15 minutes, stirring occasionally.
Meanwhile, heat the vegetable oil over medium heat. Season the chicken with salt and pepper. Dip the chicken into egg, shake off the excess and then press into the breadcrumb mixture to coat.
Heat the vegetable oil over medium heat in a large skillet. Place the chicken in the skillet and cook for 5 to 7 minutes on each side, until chicken is no longer pink in the center and it has a golden brown color. Reduce heat to low.
Spoon the bruschetta over the chicken. Top with mozzarella cheese. Cover the chicken just long enough for the cheese to melt.
Enjoy!