Nimz1466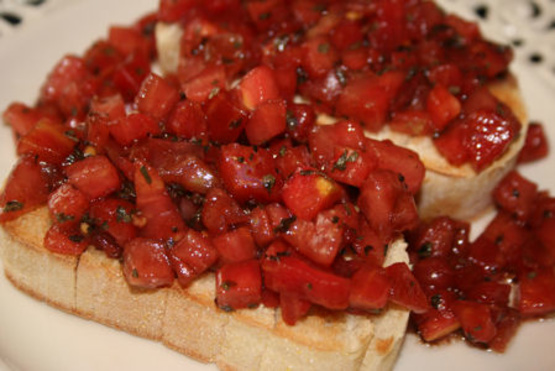 Very simple appetizer or great served with soup.

I love the taste of balsamic vinegar in Bruschetta! In fact I added a little more balsamic, some garlic powder and a bit more salt and it was a big hit with the girls at game night. It was pretty liquid-y so after it sat in the fridge for a couple of hours I drained the liquid and let people put it on the toast themselves so it didn't get soggy. I'm making it again today for a family get together. Thanks for my new favorite Bruschetta recipe!
Combine the tomatoes, olive oil, balsamic vinegar and chopped basil.
Sprinkle with a pinch of salt set aside.
Toast the bread on one side.
Rub the toasted side with the peeled clove of garlic.
Top the same side with tomato mixture and garnish with the extra chopped basil.
Serve immediately.