Brunch: Portabella Stuffed Mushrooms
Bergy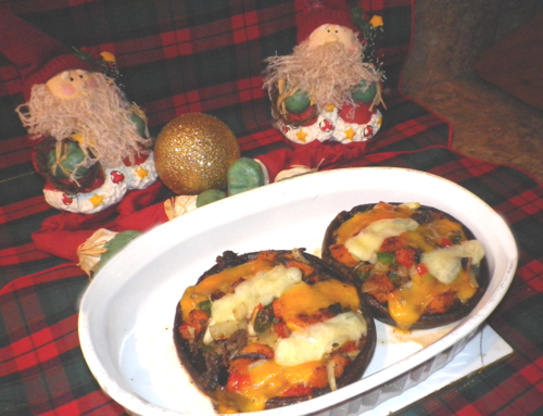 Looks great on a brunch buffet table. Use Parmesan instead of cheddar if you prefer. I just threw this together this morn and thought I would share it. For the faint of heart omit the garlic but it won't be the same! I served these with ham omeletts, browned canned potatoes sliced tomatoes and whole wheat toast. For aditional flavor add two tbsp of your favorite BBq Sauce to the pepper mixture before filling the mushrooms.
Heat the butter in a skillet.
Brown Mushroom caps, both sides, remove and drain on a paper towel.
Add Onion, chopped stems & garlic to the pan cook until softened.
Add peppers cook 1 minute.
Place mushroon caps in an oven proof dish.
(you can do the recipe up to this point and 10 minutes before serving finish cooking).
Sprinkle cheese over the mushrooms.
Bake in 375F degrees oven for 8 minutes.
Broil for 2 minutes or until the cheese is bubbly.
Serve.