Brunch Ham Enchilada Casserole (Make Ahead)
Parsley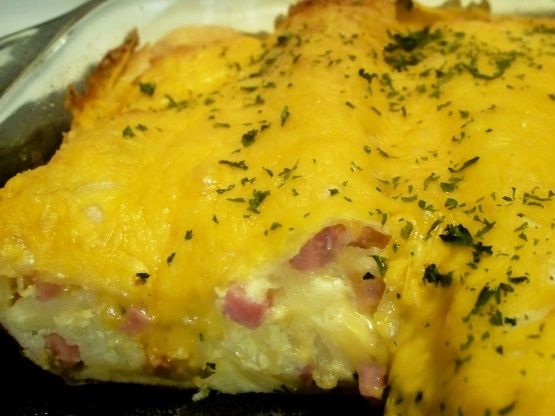 This is an awesome brunch casserole that you can make the night before and just pop in the oven in the morning. . .and SO tasty! A crowd pleaser for all ages. I found the recipe on the website www.rondele.com (they are the maker of the cheese)
Preheat oven to 350ºF.
Spread each tortilla with 2-3 tablespoons of the soft cheese to within 1/2 inch of edges. Combine ham and onions, place about 1/3 cup down the center of each tortilla and add about 2-3 tablespoons cooked hash browns.
Roll up and place seam side down in greased 9x13-inch pan.
In a bowl, combine flour, cream, eggs and salt until smooth. Pour over tortillas. Cover and refrigerate overnight.
Remove from fridge 30 minutes before baking.
Cover and bake 25 minutes.
Uncover, bake for 10 minutes.
Sprinkle with shredded Cheddar cheese, bake 3 minutes longer or until cheese melts.
Let stand 5-10 minutes before serving.