Annacia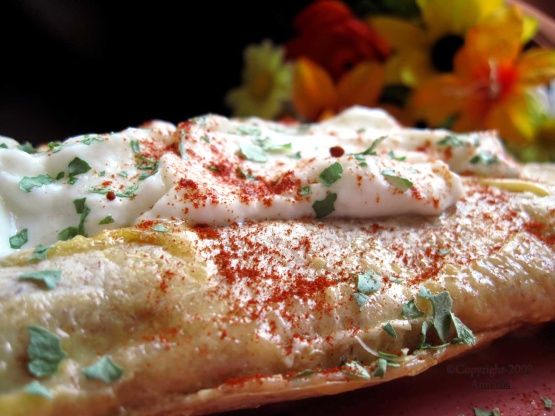 From Feb/Mar 2000 issue of Taste of Home. Another great breakfast that is so conveniently put together the night before. Prep time includes 30 minutes actual labor and 8-1/2 hours refrigeration and standing time. Cook time is 38 minutes and 10 minutes standing time. Re: Review posted by 5hungrykids (who does not accept zmail): The recipe I posted here has never differed from the original recipe published in the TOH magazine, in ingredients or baking instructions. I did a quick check of their website to see if it had been changed since 2000 but it's still exactly the same as this posting. I think baking it at 325° is reasonable enough, but that would account for your longer bake time. :)

This is an excellent brunch recipe. It tasted great and was super easy to make. I love breakfast dishes that you prepare the night before and bake in the morning. They are great for busy mornings. I took this to a women's Bible study group and they all loved it. I do add a little garlic powder (1/2 tsp) to the egg/milk mixture because I find it a little bland without it. I also found this on Taste of Home a while back and have been making it since then. The baking time is a little different on here than the original recipe at TofH. You are to bake at 325 for 25 minutes covered, then bake for another 10 minutes uncovered, then add cheese and bake for another 3 minutes. Mine is never done right after the first 25 minutes, but maybe other people are not finding a problem with this baking time?. I also do not add or top salsa on this as they taste fine without it, but I can see that it might be a good addition.
Combine ham and onion; place 1/3 cup down the center of each tortilla.
Top with 2 Tablespoons cheese.
Roll up and place seam side down in a greased 13x9x2 baking dish.
In a bowl, combine flour, cream, eggs and salt until smooth.
Pour over tortillas.
Cover and refrigerate for 8 hours or overnight.
Remove from refrigerator 30 minutes before baking.
Cover and bake at 350 degrees for 25 minutes.
Sprinkle with remaining cheese; bake 3 minutes longer or until cheese is melted.
Let stand 10 minutes before serving.