Brunch Eggs With Herbed Cheese Sauce
ImPat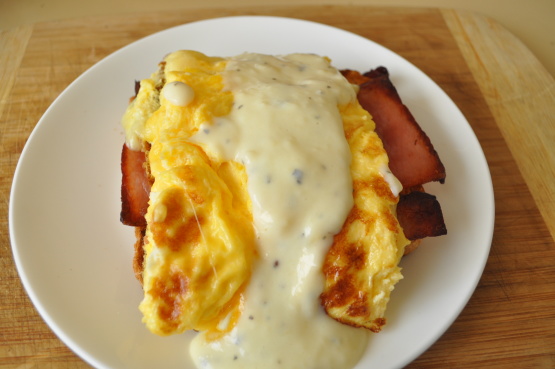 I love Eggs Benedict which is high in fat and cholesterol. Now that I have to watch my intake of both, I found this recipe and it is a wonderful alternative. Serve with fresh assorted fruit for an elegant brunch.

Top Review by ImPat
Great breakfast - I made full recipe but used 5 whole eggs and used cheddar for both the omelette and the sauce and served on toasted wholemeal/wholegrain bread and then realized after we had eaten I had forgotten to put the chives on but the DM, DS and I all thoroughly enjoyed. Thank you PaulaG for a great breakfast recipe and Nimz for recommended, made for I Recommend Ttag game.
In a small saucepan, melt the butter and stir in flour; remove from heat.
Gradually stir in milk, return to heat and heat to boiling, stirring constantly.
Boil and stir 1 minute; stir in Cheddar cheese, basil.
Adjust salt and cayenne pepper to personal taste, remove from heat and keep warm.
In a nonstick 10-inch skillet over medium heat, brown Canadian bacon on both sides, remove and keep warm.
Beat the yogurt with with egg substitute and pour into skillet that was used for bacon.
As the egg mixture begins to set at bottom and side, gently lift the cooked portions with spatula so that uncooked portion can flow to bottom.
Avoid constant stirring.
Cook 3 to 5 minutes or until thickened throughout but still moist.
Place 1 slice bacon on each muffin half.
Divide eggs among the muffin halves, top with about 2 tablespoons sauce, and grate Parmesan cheese on top.
Add a few grinds of fresh pepper to each serving and sprinkle with freshly snipped chives.
Serve with fresh fruit for a delightful brunch for 4.