Brunch B T on English Muffins
PaulaG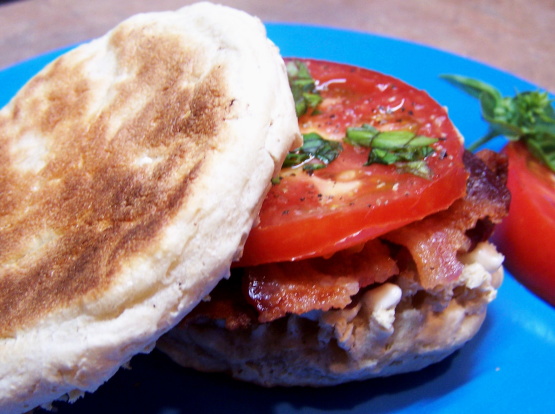 So simple, it's almost not a recipe. I've been having this for either breakfast or lunch most of this week because I've just got a craving that won't stop. Miracle Whip is one of my guilty pleasures but I suppose those who don't care for it could use mayo. I had onion the first day so added the slices, but after that I've gone without and it's still hit the spot for me. I used fresh, incredibly sweet tomatoes bought from Gorenson's farm at the Bath Farmer's Market. I think chives or cilantro probably would work in place of the basil (I did try mint and that doesn't quite fit).

We turned your brunch BT into a dinner entree last nite. I have not seen an English muffin since arrival here nearly 4 yrs ago, so I usually use a bagel or pita pockets as a sub for them. Pita pockets got elected. I also used reg mayo for the same reason. Good tomatoes are either imported or grown in hot houses here, so we have them all yr. Like most all of the B&T genre, it was a great sandwich! I esp liked the red onion & basil w/it & even added a mix of shredded cheddar & mozzarella cheese. I served my new recipe, recipe #205651. It was like having a tasty summer picnic! Thx for sharing this recipe w/us.
Toast muffins and spread each muffin half with 1 Tbs Miracle Whip.
Cut bacon slices in half. Lay 3 bacon slice halves on top of each muffin half.
If including onion, top each with a slice of onion.
Top onion (or bacon) with a slice of tomato.
Sprinkle basil over the top.