msGigi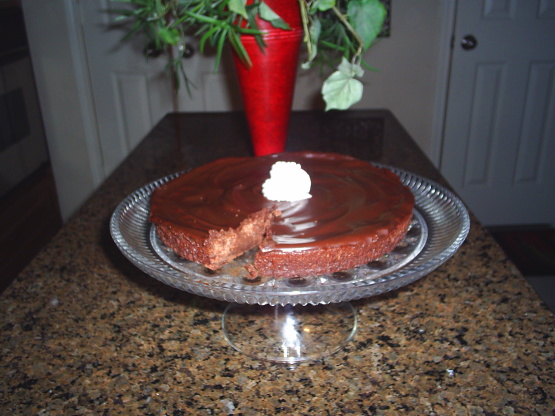 I found this recipe in a old Cookbook that my mother's friend gave to me. It's the greatest brownie EVER.... and easy to prepare. ***You have to make this recipe in a 9-inch round foilcake pan so it's easy to remove.***
Preheat oven to 350 degrees, beat the eggs and salt together in a large mixing bowl until frothy.
Add the sugar and beat until the eggs are thick and pale yellow.
Add the vanilla extract and beat
Put the margarine and chocolate in a bowl and microwave on high for 1 minute. Stir to make sure that the chocolate has melted.
With the mixer running, pour the melted chocolate into the egg mixture. Add the flour and beat 1 minute. Scrape down the sides of the bowl.
Spray the cake pan with a pan release spray and pour in the brownie batter. Place the pan on the top rack of the oven and bake 15 to 20 minutes until the center is barely set. Top with the ganache and place in the freezer for at least 1 hour.
To serve, take out of freezer and slice immediately. Allow to come to room temperature before serving.
For the ganache.
Put the chocolate chips and cream into a bowl. Microwave on high for 1 minute. Remove the bowl and stir with a whisk or fork until well mixed. Use immediately. If using later it will need to be reheated.