SharonChen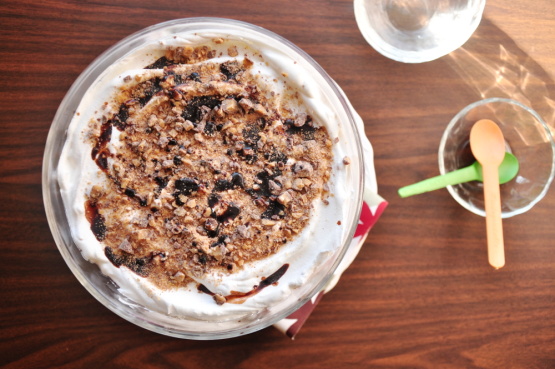 I have made zillions of trifles in my lifetime, but this one is fantastic. Toffee bits are unavailable where I live, so I always have visitors bring me some just to make this (usually for them).

This was really good! So rich! In some strange attempt to lower my guests guilt-level, I used light cool whip, and lowfat milk for the pudding, but the taste was still wonderful.
561.32

g package fudge brownie mix

59.14

ml water

118.29

ml vegetable oil

2

eggs

14.79

ml dry instant coffee (dry)

473.18

ml milk

170.09

g package English toffee bits (reserving 2 tablespoons for garnish)

768.91

ml whipped cream
Heat oven to 350F degrees.
Prepare brownie mix as directed on package for 13 × 9-inch rectangular pan, using water, oil and eggs and stirring coffee into batter.
Bake and cool as directed.
Cut brownies into 1-inch squares.
Place half of the brownie squares in the bottom of a 3-quart glass bowl.
Prepare pudding mix as directed on package for pudding, Pour half of the pudding over brownies in bowl.
Top with half each of the toffee bits and whipped cream.
Repeat with remaining brownies, pudding, toffee bits and whipped cream.
Sprinkle with reserved toffee bits.
Cover and refrigerate at least 4 hours before serving.
Cover and refrigerate any remaining trifle (if you have any left, doubtful).