buzzsau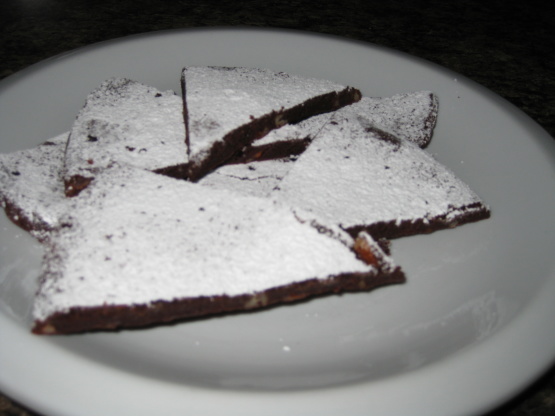 Very thin, chocolately brownie! Makes a small pan of brownies and these are wonderful if you love brownies! You can also use margarine in place of butter but everything is better with butter. Also, I make this in a 9" round cake pan and just cut into wedges.

Definitely a winning recipe for us, but then we do love our brownies! Easy to make, too, which is a plus! At the end, howeveer, I used just a very, very light dusting of the powdered sugar! I look forward to making these the next time I host one of my monthly groups! [Made & reviewed for one of my adoptees in the current Pick A Chef event]
Line bottom of a buttered 9" pan with wax paper and butter top of wax paper.
In small saucepan, melt butter, remove from heat.
Add cocoa and stir.
Stir in sugar, beaten egg, flour, vanilla, pinch of salt and nuts.
Spread in pan evenly.
Bake at 350 degrees for 10-15 minutes. Don't burn.
Let cool . Invert on cutting board and peel off wax paper. Sprinkle with sifted powdered sugar.
Cut into wedges or however you like!