Kathy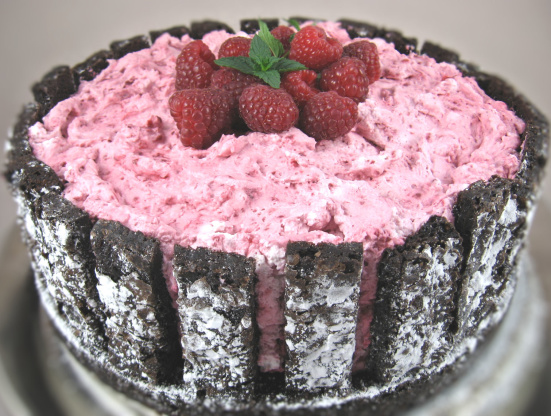 I've been hanging onto this recipe for several years, and keep promising myself that I'm going to make it one day.
Brownie

1

(20 ounce) package dark chocolate brownie mix
1⁄3 cup water, to prepare brownie mix (or as directed on box)
1⁄3 cup vegetable oil, to prepare brownie mix (or as directed on box)

2

eggs, to prepare brownie mix (or as directed on box)

Raspberry Mixture

3⁄4 cup sugar
1⁄3 cup cornstarch

16

ounces frozen raspberries, thawed
3⁄4 cup raspberry liqueur or 3⁄4 cup raspberry flavored syrup

Additional Ingredients

1

tablespoon powdered sugar
3 1⁄2 cups whipping cream

1

cup Cool Whip, to garnish
1⁄2 cup fresh raspberry, to garnish

1 -2

sprig of fresh mint, to garnish
Heat oven to 350°F Chill a bowl for the whipping cream.
Grease bottom only of a 9" spring form pan, AND line an 8" square pan with foil; grease bottom.
Prepare brownie mix as directed. Divide batter between two pans.
Bake 20-25 minutes or until toothpick 2 inches from edge comes out clean. Cool. completely.
Raspberry Mixture: Mix sugar and cornstarch in saucepan. Stir in thawed raspberries and liqueur. Heat to boiling over medium heat, stirring constantly. Boil and stir 1 minute. Cool to room temperature.
Remove brownies from square pan. Cut into 24 rectangles (2 1/2" x 1"). Sprinkle with powdered sugar.
Release spring form pan and loosen only around the edges of the brownie bottom. Reattach the side of the spring form pan. With spring form pan fully assembled, arrange the brownie rectangles vertically with the powdered sugar side facing outside (against the pan side).
Note: I had a tough time getting the brownie rectangles to stand up. Don't worry about it, prop them against the side of the pan. When you add the raspberry filling, you can use it to hold the brownies in place.
Beat 3 1/2 cups whipping cream in a chilled bowl on high until stiff. Fold cooled raspberry mixture into whipped cream. Spoon into center of brownie pan.
Refrigerate 4 hours (but not longer than 24 hours). When ready to serve, remove spring form ring and garnish with Cool Whip and fresh raspberries.