Brownie Muffins That You Wouldn't Expect to Be Good!
HokiesMom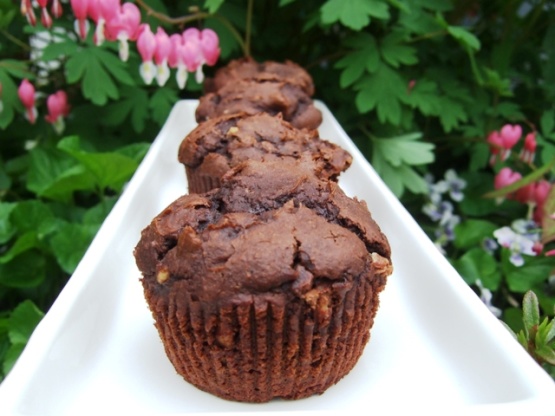 Longmeadow Farm is trying something new. I feel inspired to make a nice warm treat, one that is a little less caloric but still captures that down on the farm taste. This recipe was adapted from a blog "Culinary Adventures" and since I had some canned pumpkin in the old pantry, I considered, and pondered and thought what the heck! After all, I don't need to be looking like one of our beautiful cows, "Flossy" as she is about ready to calve. And besides, it would be nice to fit into a smaller size overalls for the farm chores. Please note, my oven bakes these in exactly 15 minutes. I also have a pizza stone that stays put in the oven all the time, and radiates the heat a bit more. However; you may have to adjust baking times up or down depending on the accuracy of your oven. Most people are stating the 18 minute mark. I use the toothpick method of sticking it in the middle of the muffin to check for doneness. If it comes out clean, then your in business. Also note: I make these now for my vegan son, using a cake mix that is only soy and wheat based and a special dark chocolate that does not contain any dairy or eggs as well. For fun and frolic, I give em' a boost of sprinkled powdered sugar on the top.

Oh Andi, seriously, this recipe is amazing! I would have never thought that it would work out, but it did and very well so. The muffins came out brownie like and fudgy with such an intense chocolate flavour. I wasnt missing anything at all! YUM!
I made half the recipe using this recipe Recipe #129855, but reducing the sugar to 1/4 cup, which was plenty for me and omitting the shortening. For the choc chips I used 1/4 cup mini semi sweet morsels.
Ill surely make these again, they are wonderful! THANK YOU SO MUCH for sharing a true winner here with us, hon!
Made and reviewed for the Turning Over A New Leaf Challenge in the Diabetic Forum January 2012.
510.29

g box chocolate cake mix (can be devils food or dark chocolate)

425.24

g can pumpkin (not pie filling)

170.09

g chocolate chips
Mix all three ingredients completely together.
I use my stand mixer and really mix it well.
It's important to remember this will be very thick and you may ponder about this, but really it's okay.
Scoop into sprayed muffin tins with a small iced tea spoon.
Bake at 350 for around 15-18 minutes.