Brownie Fudge Layer Cake ( Light)
Redsie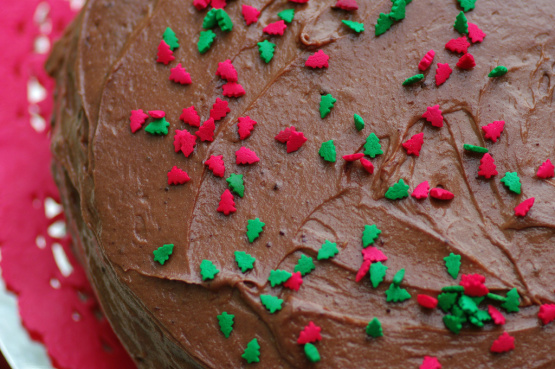 Delicious, light and easy! Can't wait to bake it again! A recipe from R. Reisman.

Top Review by Debber
This recipe comes together so nicely and looks beautiful. What I really like is that the layers are level, so when you put them together, you don't have that sliding-off thing happening! I used cottage cheese (blended into smithereens) for the ricotta in the frosting, and we LOVED it like that. Excellent taste--really nice change from the usual loaded-with-cream-cheese-frostings. All the flavor without all the calories! My only "problem" with the cake is the way the recipe is organized. I'd prefer the Icing Ingredients listed first, since the icing is MADE first. Not a major problem--just a visual thing with moi! This recipe is definitely going into my KEEPER file. We're all chocolate fiends here, and this one is LOADED! Thanks for a GREAT recipe!
To make icing: In a small food processor or in a bowl and using a whisk or an electric mixer, beat all icing ingredients until smooth. Chill while preparing cakes.
Preheat oven to 350°F Spray two 9-inch round cake pans with cooking spray.
To make cake: In a small microwave-safe bowl, heat chocolate chips and water on High in the microwave for 30 seconds or just until chips begin to melt. Stir until smooth. In a large bowl and using a whisk or an electric mixer, beat together chocolate mixture, sugar, cocoa, egg, egg whites, sour cream, corn syrup, oil, and vanilla. In another bowl, stir together flour and baking powder.With a wooden spoon, stir flour mixture into chocolate mixture just until combined. Divide between prepared pans.
Bake in centre of oven for 15 to 20 minutes or until a tester inserted in centre of cake comes out clean. Cool in pans for 10 minutes on a wire rack. Invert cakes onto a wire rack to cool completely.
Place one cake on a serving platter. Spread some icing over top. Top with remaining cake; spread icing over top and side of cake. Sprinkle with icing sugar or flaked chocolate.