Promomm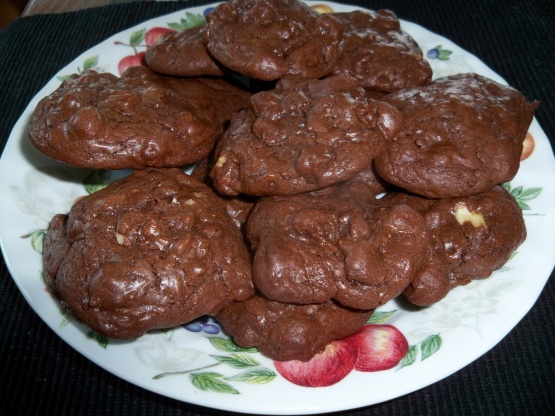 A former co-worker devised these yummy cookies. Wonderful chocolatey goodness here, folks! Hope you enjoy. By the way, serving number is a total guess, but this a "standard" sized cookie recipe.

What an amazing recipe! I too hate cutting brownies--arrggh! My husband tried one & loved them! I used the microwave to melt the butter/choc chips--about 45 sec approx. I used a large cookie scoop (maybe 2 tbsp?) to drop the dough (it's pretty sticky, rich dough FYI so plan on getting your fingers messy!)--and baked for 10 min. Really great recipe. I got about 14 cookies out of this! Thank you again!!!!!!!!
Heat oven to 350. Line a cookie sheet with foil, coat with nonstick spray.
Whisk flour, cocoa, and baking powder in a medium bowl until thoroughly blended. Melt butter and one cup of the semi sweet chocolate chips in a medium saucepan over low heat, stirring as needed. Remove from heat; whisk in sugar, then eggs and vanilla until blended.
Scrape into flour mixture, stir until smooth. Stir in 1/2 cup semi sweet chocolate chips, 1 cup of white chocolate chips and nuts. Let stand 5 to 10 minutes, then drop 1/4 cupfuls 2 inches apart on prepared baking sheet(s).
Bake immediately for 12 minutes or until cookies are puffed and shiny. Cool on foil for 1 to 2 minutes, then remove to a wire rack to cool completely.