Brownie Cupcakes with Peanut Butter Frosting
alligirl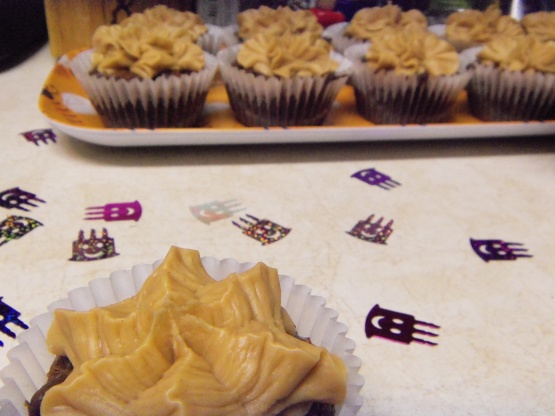 For kids of all ages, this dessert is dense and chocolaty. When was the last time you had a cupcake with sprinkles on top. It is best to use mini muffin tins.
Top Review by moxie
Warning: have the ice cold milk on standby!!! These are wonderful, fudgy little bites of heaven. I used a mini-muffin tin and got 36 cupcakes and they baked in about 12 minutes. Be sure and level off the tops before baking, because these do not rise. So delicious, Barb -- thanks for sharing.
For cupcakes; Preheat oven to 350 degrees.
Line standard (1/3 cup) muffin cups with paper liners (These are really better made in mini muffin tins.) Combine butter, 1/2 cup chocolate chips, and unsweetened chocolate in the top of double broiler set over simmering water.
Stir until mixture is melted and smooth, Remove from water.
Whisk both sugars into chocolate mixture, then whisk in eggs 1 at a time.
whisk in vanilla, then flour, walnuts, salt and remaining 3/4 cup chocolate chips.
Divide batter among muffin cups (about 1/4 cup each).
Bake cupcakes until tester inserted into center comes out with moist crumbs attached, about 20 minutes.
Transfer cupcakes to rack and cool completely.
Frosting; Put powdered sugar and the next 3 ingredients in a medium bowl.
Using electric mixer, beat until mixture is smooth, adding whipping cream by teaspons if frosting is to thick to spread.
Spread frosting in swirls over tops of cupcakes, sprinkle with chocolate shavings or sprinkles.