Boomette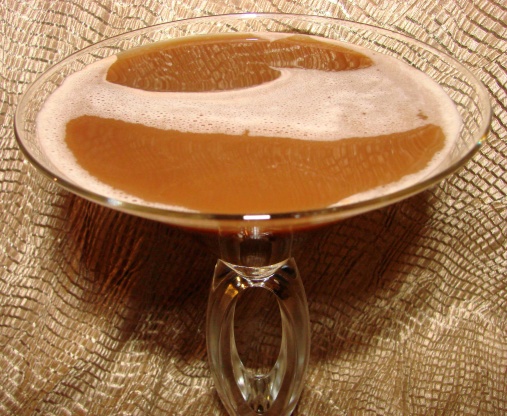 You will never guess where I found this recipe, so I'm just gonna tell you. Bored & browsing the net while DH was napping after dinner, I got my wkly RZ Newsletter & started browsing it instead. In the bottom right corner of the pg, there was an ad from HGTV that said *Dream Home 2009 is open* so I went to look at it. While taking their virtual tour of the home & on Pg 10 of 20, an ad appeared in the top right corner that said *HOLIDAY COCKTAILS* (10 Recipes for Merry Drinks). This 1 captured so much of my attention that I did not even bother to look at the rest. The recipe gave the source as *Guillermo Nassif* of the *Guadalupe Restaurant* in New York City. *Enjoy* !

I used Courvoisier and Disaronno. Very interesting!
1 1⁄2 ounces cognac (Courvoisier VSOP suggested)

1

ounce Amaretto

1

dash chocolate syrup (or even more maybe)
Fill a pint shaker w/ice.
Add cognac, amaretto & chocolate syrup.
Shake & pour into a well-chilled martini glass.