Brownie Bottom Cheesecake
Prep 20 mins
Cook 1 hr 5 mins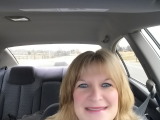 What can I say? Yummy if you love cheesecake-like me :) I found with this recipe, if you refrigerate for 4 hours or overnight, the taste is just as delicious.
Directions
Prepare and bake brownie mix as directed on package for 8 inch square pan in well greased 9 inch springform pan.
Mix cream cheese, sugar and vanilla with electric mixer on medium speed until well blended.
Blend in sour cream.
Add eggs, mixing on low speed just until blended.
Bake at 325 for 60 to 65 minutes or until center is almost set if using a silver springform pan.
(bake at 300 for 60-65 minutes or until center is almost set if using a dark nonstick springform pan.) Run knife or metal spatula around rim of pan to loosen cake; cool before removing rim of pan.
Refrigerate 4 hours or overnight.
Most Helpful
Initially, I didnt think much of this recipe. Thought it would be "plain" ... nothing spectacular(Im not a chocolate nut). BOY was I mistaken!! I made this for a friend and we were all WOW'D... The combination of the brownie and cheesecake is outstanding! NOTE: I used the option of a "fudge" brownie instead of "cake" brownie.. great choice!
A great and yummy idea, however, I would highly suggest not cooking the brownies all the way. After the cheesecake was baked, the brownies were too hard. Next time I'll bake for 1/2 as long as directed!
This was delicious! I baked the brownie base in a regular rectangular pan and poured the cheesecake mixture into that as well as I wanted to make squares. Of course there was way to much cheesecake mixture for that (I don't know why I didn't think of that!), so if I did that again I would reduce the cheesecake mix to 1/3. The cheesecake wasn't quite as sweet as I would like so I drizzled the squares with some caramel sauce. Also I had to reduce the baking time because of the way I baked the recipe. The leftover mix was used to make lovely little mini cheesecakes.