Browned Pork Chops with Gravy
Derf2440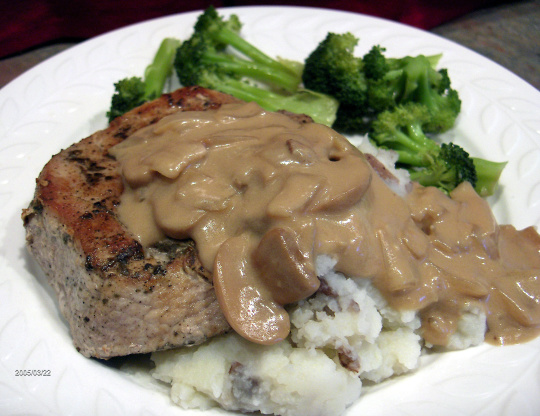 Sauted herb flavored boneless pork chops topped with a deviled mushroom sour cream gravy. From the Recipe Institute.

YUMMERS! I can't believe no one has rated this in so long. The spice combination on the seared chops was excellent, and the gravy was to die for. I did up the Dijon using 2 tablespoons. Served over Spaetzle with mixed vegetables and a cucumber tomato salad on the side. My partner and I couldn't get enough of the gravy. Thank you for sharing!
Trim fat from chops.
Stir together sage, marjoram, pepper and salt and rub on both sides of chops.
Spray large nonstick skillet with cooking spray and heat over medium heat.
Place chops in skillet and cook 5 minutes, turning once, or until chops are just barely pink.
Remove chops from skillet and keep warm.
Add onion and garlic to skillet, cook and stir 2 minutes.
Add mushrooms and broth, bring to a boil, reduce heat and simmer, covered, 3 to 4 minutes or until mushrooms are tender.
Whisk together sour cream, flour and mustard in medium bowl.
Whisk in about 3 tablespoons broth from the skillet.
Stir sour cream mixture into skillet.
Cook, stirring constantly, until mixture comes to a boil.
Serve over pork chops and noodles.
Sprinkle with parsley, if desired.