KellyMae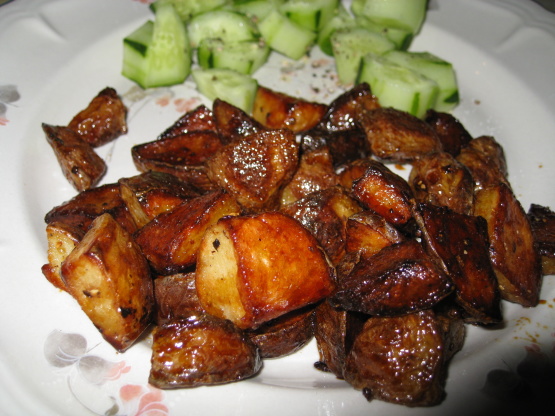 From The Southern Living Cookbook. A simple and unusual way to prepare potatoes. Crispy with a lovely brown color and a touch of sweetness from molasses. I always use a cast iron skillet. Recipe says it serves 3 to 4 but they go quickly.

Nice touch of sweetmess to crispy browned potatoes. I used baby golden potates and sliced them in half. The molasses carmelized over the potatoes for mild sweet crunchiness. Next time I will add a bit more molasses. I think these will be just as good by omitting the oven step and just browning the potatoes to your desired crispiness/browness and drain and toss with molasses. Not sure that the oven actually added anything to the overall recipe. Thanks for sharing.
Cook potatoes in boiling water to cover until almost tender, about 10 minutes; drain. Heat bacon drippings in a heavy ovenproof skillet over medium heat; add potatoes and cook 10 minutes or until lightly browned, turning frequently. Sprinkle with salt and pepper. Bake at 400 degrees for 30 minutes or until browned, turning once. Stir in molasses and sprinkle with parsley, if desired. Serve immediately.