Browned Leeks and Mushrooms
Parsley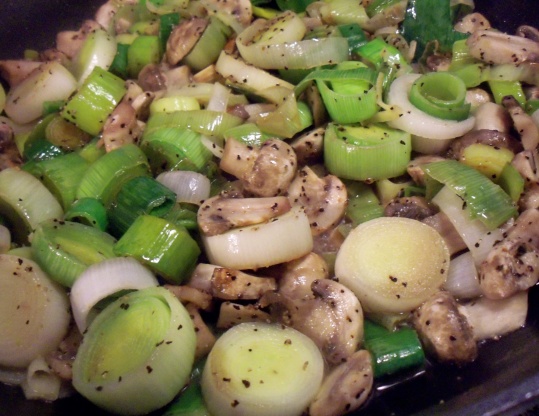 From The Complete Vegetable cookbook.

I loved this! Enough said...it is great! I made this for chicken, and used the white wine....for beef I'd use red wine. This is great! Thanks for sharing.
Cut leeks crosswise into 1/2 inch slices. Slice the mushrooms thinly. In a large skillet, heat the olive oil and saute the leeks over high heat until lightly browned.
Lower the heat, add mushrooms, and cook, stirring, until the mushrooms have given up their liquid and are limp. Season with salt and lots pf pepper. Raise the heat and add the wine a little at a time, letting most of it evaporate before adding more; stir well to get the brown bits off the skillet. Season with more salt and pepper if needed, and serve hot.