Brown Sugar Syrup (Glaze)

This recipe is soooo good served over pancakes, waffles, biscuits etc.
Directions
Heat the butter in a heavy saucepan over medium heat.
Stir in the molasses, brown sugar and vanilla.
Serve warm.
Most Helpful
This recipe makes a half of a Mason jar and is very delicious with buttery notes. I loved it!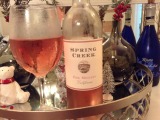 We had a VERY early breakfast this morning and I made this quick and easy syrup to serve over pancakes. Oh my how good this warm syrup is and it took no effort at all to make! Thanks for sharing, Chef V.
Quick and Easy to put together and a wonderful flavor. Be aware that it separates easily. Very good. thanks.