J-Lynn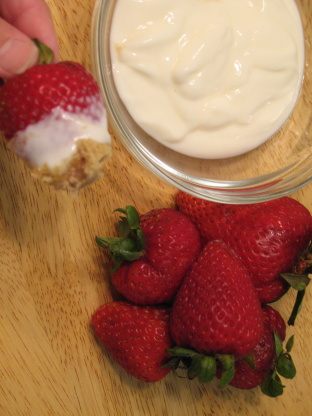 We were served this very simple and delicious dessert at a friend's house yesterday. Both the adults and the kids had a great time dipping and devouring!

Wow! For something so simple, these were great! They were ready in about 10 seconds and tasted delicious - the brown sugar kind of melts almost as soon as you dip it into the yogurt and turns into a creamy, caramelly taste sensation. Really tasty! I used vanilla yogurt,as that was what I had on hand.
Rinse and dry strawberries but do not hull.
Place strawberries in serving bowl.
Place yogurt and brown sugar in 2 separate bowls.
To eat, dip strawberries into yogurt and then into brown sugar.