twissis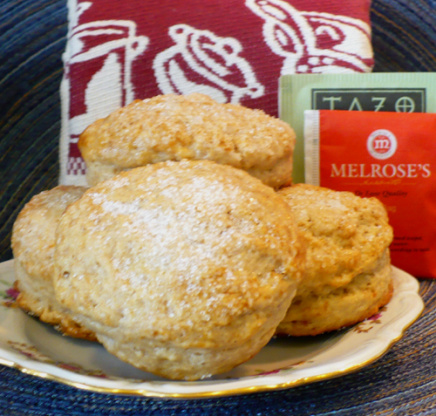 A recipe I found in my catalogue from King Arthur Flour. The recipes states "This traditional British scone is an ideal tea-time treat when served with clotted cream or butter and jam. It states to use their White Whole Wheat Flour, but I just use All purpose flour. I made the walnuts and raisins optional, depending on your families tastes.

I made a half recipe (yield 7 large-sized scones), DH & I taste-tested 2 of them & I froze the other 5 for use early next mo when we will have visitors from the US. I skipped the opt raisins & nuts due to DH dietary restrictions. Mine was taste-tested warm from the oven (slathered w/butter) & DH ate his plain as a late nite snack. They were very flavorful & the texture was between a moist cake to a soft biscuit. We love scones & these are among our faves. Thx for posting this recipe for us.
Preheat oven to 400. Combine the flours, baking powder, baking soda, salt, sugar, and cinnamon. Work in butter until small clumps form.
Add walnuts, and raisins and toss to incorporate.
Pour the buttermilk into the center of the mixture and stir until dough is just cohesive.
Turn the dough out onto a lightly floured surface and bring together into a ball. Roll or pat the dough to a 1" thickness. Cut rounds using a 2" round biscuit cutter and transfer to parchment lined baking sheet.
Or, pat into a square and cut square scones.
Freeze for 15 minutes.
Brush scones with cream, and sprinkle with sugar.
Bake until they begin to brown, 20 to 22 minutes. Remove from the oven and cool on a rack.