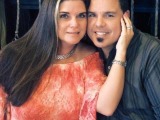 These peaches taste fabulous! It is so simple to prepare and yet is always a big hit with everyone. Serve over ice cream or your cake of choice.
Directions
Gently toss sliced peaches, golden brown sugar, and fresh lemon juice in large bowl to blend.
Let stand at room temperature until juices form, tossing occasionally, about 2 hours.
Most Helpful
I only had 3 peaches (about 1 lb.) so I had to reduce the other ingredients by 1/3. I refrigerated them after the juices formed and my kids ate them straight out of the bowl the next day. They loved them!