Brown Sugar Oatmeal Pancakes
loof751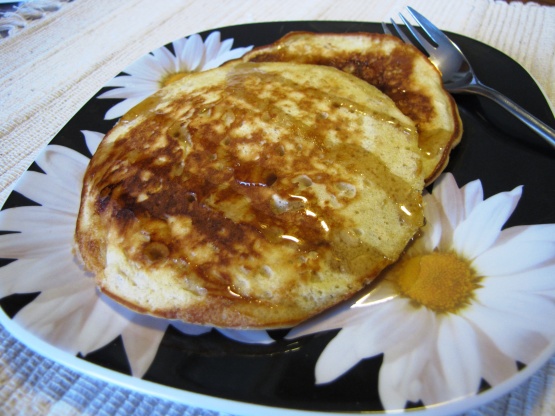 It's difficult to find something "healthy" and yummy in the same bite! For me this is pure comfort food, without so much of the fat! Found on ginny.com (10 tablespoons = is 2/3 cup plus 1/2 tablespoon)

I added about 1/2 tsp cinnamon to the batter. My son and husband loved them! Thanks for posting! UPDATED: 9/15/09 - added 1 mashed banana to the batter (and used the whole 2/3 cup oats)- my son loved it - said it tasted like banana bread (without all the work for me) Also added 1 Tbls flax seed for more nutrition. Thanks again for posting!
In a small bowl combine the oats, flours, baking soda, salt and sugar.
In another small bowl, beat the egg, oil and buttermilk.
Stir into dry ingredients just until moistened. Pour batter by 1/3 cupful onto a greased hot griddle. Turn when bubbles form on top; cook until the second side is golden brown.