Bev I Am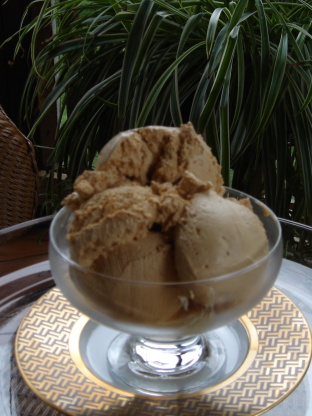 If you like the taste of caramel/butterscotch, you'll love this ice cream. Time for ice cream maker is not included.

Wonderful! Rich, creamy and smooth, you couldn't ask for much more in a homemade ice cream : ) This is so flavorful, this ice cream does not require a sauce, but if you are daring enough, you might want to try a little chocolate sauce over this ; ) Love it, Evely/athens!
Combine milk and cream in medium saucepan.
Bring just to simmer.
Remove from heat.
Place sugar in large saucepan.
Stir over medium heat until sugar melts (some soft lumps will remain) and is deep brown, about 5-7 minutes.
Stir the sugar continuously while it melts.
Whisk in hot milk mixture.
Stir over low heat until caramel bits melt, about 5 minutes (mixture may look curdled).
Whisk yolks in large bowl to blend.
Gradually whisk in brown sugar mixture.
Return mixture to saucepan.
Stir over low heat until custard thickens and leaves path on back of spoon when finger is drawn across, about 5-7 minutes (do not boil).
Cool.
Mix in vanilla.
Puree custard in batches in blender until very smooth.
Refrigerate until cold, at least 1 hour or overnight.
Process custard in ice cream maker according to manufacturer's instructions.
Transfer to container; cover and freeze until firm.