Brown Sugar Baked Stuffed Apples
twissis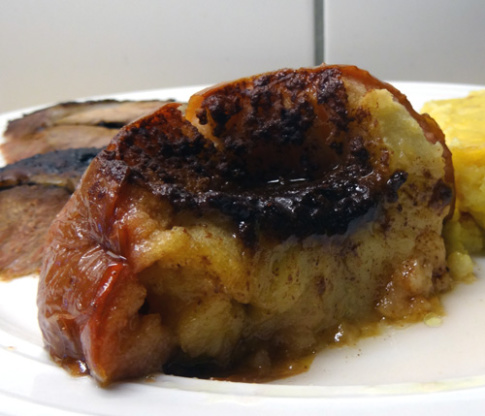 Another variation of stuffed Apples I received from the Apple Orchard. This one e tried today, and absolutely enjoyed them.

Made for the FYC Tag Game - I got a later start than planned, so opted to cook on High for 3 hrs which split the time range given. My apples were large, so I thought that would work well. I should have read Pat's review & started checking for doneness at 2 1/2 hours which she said was perfect -- My bad. I also took a sml shortcut by combining Prep Steps 1-3, mixing the cinnamon, butter & sugar together & then stuffing the center of the apples w/the mixture. My apples were over-cooked thru no fault of the recipe, but the taste & aroma were divine. I served them w/corn pudding & oven-roasted leg of lamb. Yummy meal, Doug. Thx for sharing this recipe w/us.
Mix raisins and brown sugar together in a small bowl.
Stand apples upright on bottom of slow cooker, and spoon raisin-brown sugar mixture into centers of apples, dividing evenly.
Sprinkle stuffed apples with cinnamon, and dot with butter.
Add water along edge of slow cooker.
Cover and cook on low 3-5 hours, or on high 2 1/2 - 3 1/2 hours, or until apples are tender, but not collapsing.
Serve warm as is, or with ice cream, or frozen yogurt.