Brown Sugar Apple Pie (No Crust)
Bev I Am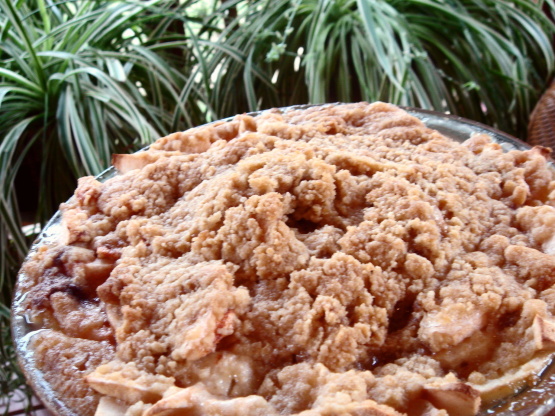 This recipe comes from Virginia Hospitality.

A wonderful recipe. Hubby is eating it right now, warmed up w/ some light whipped cream on it. I wasn't sure about the exact amount of apples, but about 4 cups seemed right to me & thankfully, it seemed to work! I used Splenda & Splenda brown sugar & Blue Bonnet light butter. Baking time was perfect. The crust topping wasn't as crumbly as I thought; I had to 'spread" it on vs. pressing it, but it looked fine when it came out. It smelled wonderful while baking & looked great, too. Thanks for sharing; hope to make this again for him!!
Preheat oven to 325°F.
Butter a 9" pie plate.
Pile apples in plate and sprinkle with 2/3 cup sugar, 3 TBS butter and cinnamon.
In food processor, pulse butter and sugar until combined; add flour and salt, pulse till combined.
Press this crumbly mixture firmly over apples.
Bake for 45 minutes or until apples are tender.
Serve garnished with whipped cream, or ice cream if desired.
Note: For variation, recipe can be made with peaches.