Brown Sugar and Oatmeal Shortbread
Juju Bee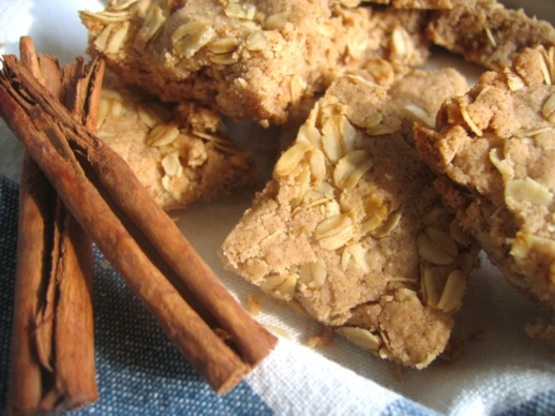 These have a wonderful texture - buttery, melt-in-your-mouth soft, yet a little crunchy. The cornstarch makes this shortbread especially tender, while the addition of oatmeal give it a bit of crunch. Using old-fashioned oats instead of quick-cooking will provide more crunch. Recipe by Elinor Klivans. These can be made ahead and frozen up to 3 months. Wrap them tightly with plastic wrap, then seal in a clean plastic/metal container.

Top Review by Dorika
So delicious, the flavour is almost maple-like, and the texture is divine (cross between a shortbread and a cookie). I pressed into a 13X8X2 pan and this made them even crisper. I also used dark brown sugar and salted butter (omitting the salt). I will be making this again!
Position a rack in middle of oven and preheat oven to 350°F.
Prepare 9x9x2-inch square or 11x7x2-inch baking tray by lining with parchment or greasing with butter.
Sift flour, cornstarch, salt and cinnamon together onto wax paper or medium bowl; set aside.
Beat butter and brown sugar together in a large bowl, until smooth and fluffy.
Using low speed (if using electric mixer), mix in flour mixture, until dough comes together in big clumps.
Add in oatmeal, mixing just to distribute evenly.
Press dough evenly into prepared tray.
Bake for 25 mins, until top is light-brown.
Remove from oven and immediately cut shortbread into squares (6 rows lengthwise, 4 rows across), cutting through to the bottom.
Cool thoroughly in the pan and remove shortbread from pan using a spatula.
The shortbread will become crisp on the outside as it cool, but remain slightly soft inside.
Store cooled shortbread in an airtight contained for up to 4 days or freeze.