Brown Sugar and Balsamic Glazed Pork Loin
Boomette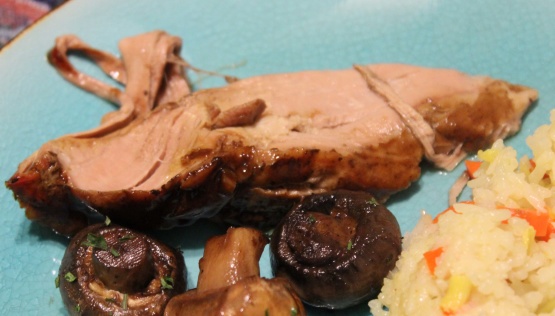 Found this on an internet food blog. Looks like a different and delicious new way for my family to enjoy pork tenderloin! Posted here for safe keeping.

This turned a plain pork roast into a special meal! Not only was it delicious, but it was EASY too! The aroma while cooking was wonderful, but the glaze is what puts the roast over the top. I cooked the roast until done, but still in one piece. I drained the cooking liquid from the crockpot before starting the glazing process. The finished roast didn't have the deep colored glazing like the photo I'd seen on the net, but it was delicious. This is a company worthy roast, but I would glaze the roast in the oven in that case for a prettier presentation. Served with recipe #457552. Thank you for sharing the recipe! :-)
Combine sage, salt, pepper and garlic. Rub over roast.
Place in slow cooker with 1/2 cup water. Cook on low for 6-8 hours.
About 1 hour before roast is done, combine ingredients for glaze in small sauce pan. Heat and stir until mixture thickens.
Brush roast with glaze 2 or 3 times during the last hour of cooking. Serve with remaining glaze on the side.