Brown Rice With Spinach and Feta Cheese
PaulaG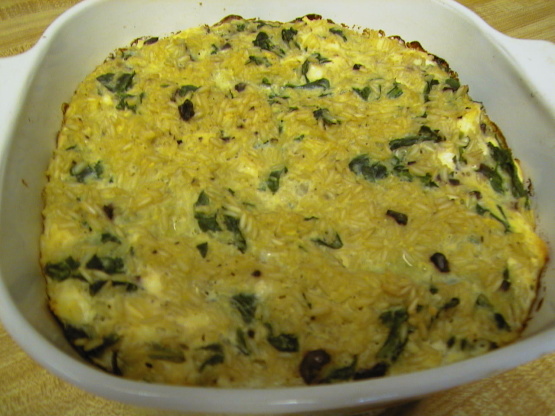 "Jazz up plain old rice with the flavors of Greece. This main-dish casserole gets powerful antioxidents from the spinach and plenty of fiber from the brown rice." - From the Prevention Magazine book, "Natural Healing Guide 2002"

For those with a wheat allergy, this is a solution, but only a partial. The taste, if cooked as directed, is hollow. It has none of the flair of spano and other greek dishes. Adding nutmeg, some lemon may help, that is if you want something other than a thin taste.Experiment, then post your results fo rthe rest of us.
In a large saucepan, heat the oil over medium heat.
Add the onion and sautee for about 5 minutes or until just golden.
Stir in the rice and water.
Bring to a boil.
Cover and reduce the heat to a simmer.
Simmer, covered for about 45 minutes, or until all the water is absorbed.
Remove from the heat.
Preheat oven to 350°F Oil a 8x8 baking dish (ceramic or glass would probably be best).
Stir in the spinach, feta and olives into the rice.
Stir in the eggs.
Pour into the prepared baking dish.
Bake, uncovered for 25-30 minutes, or until a knife incerted into the center comes out clean.
Let stand for 5 minutes before serving.