Brown Rice With Onions, Garlic, and Pecans
PaulaG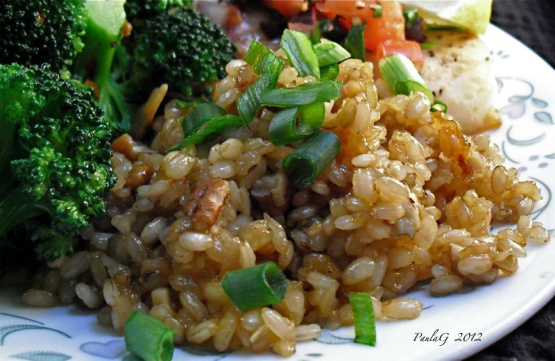 This is a wonderful rice dish, rich with flavor and textures. One of my favorite side dishes!

Oooh, this was a yummy delicious rice dish. I used long grain brown rice which tasted great with the onion, garlic and pecan. So much better than just plain boring rice. I did like one of the other reviewers and took the left-overs to work the next day for lunch. Very filling. Thanks for sharing this wonderful recipe.
Using chicken broth [or water for Vegetarian], cook the rice according to the package directions.
About 15 minutes before the rice is ready, melt the butter in a skillet over medium low heat.
Add the chopped onion and saute', stirring often, until the onion is very soft and begins to color, about 10 minutes.
Stir in the minced garlic and the pecan meats; saute' over medium heat, stirring, until the nuts and onions are golden and the garlic is tender.
After done cooking, let the rice stand, covered, for 5 minutes; spoon rice into a bowl, spoon the onions and pecans on top, and fluff with a fork or a chopstick.
Garnish with the green onions.
Makes 4 servings.
This is also good with other types of nut, such as pine nuts, pistachios, and walnuts, and also made with a mixture of white and wild rice; sliced mushrooms are also a good addition.