Brown Rice With Fried Bananas from Angola
Linky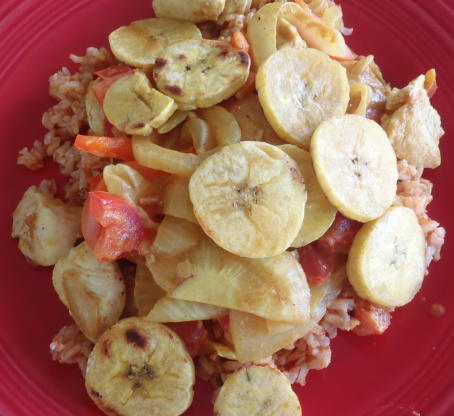 I haven't tried this, but it sounds very interesting. The brown rice is cooked with tomato juice, topped with an onion sauce and garnished with golden fried bananas. You make the sauce and fry the bananas while the rice cooks. Sounds like a yummy meal to me! From Angola, Africa. From wiki.

Top Review by Linky
This was a flavorful, easy dish. I did add some chicken left over from another dish, but otherwise followed all the directions. I think the thing that made it 4 stars not 5 was that I'm such a plantain novice that I chose a green plantain (actually the one at the store that looked the most yellow-y) and it was quite hard, dry and had no flavor. It was like tiny hockey pucks adorning the rest of the ingredients. I will make this again if I ever score some black plantains! Made for My Food Odyssey 2013
Pour the brown rice, tomato juice, and 2 cups water in a 2-quart pot over high heat.
When the mixture comes to a boil, cover, reduce heat and simmer until rice is done (45 to 50 minutes).
Meanwhile, slice onions and green peppers and sauté in 1/4 cup peanut oil until onions are soft.
Add curry powder, salt, and pepper; mix well, heat for 1 minute.
Add 1/4 cup water, tomatoes, and peanut butter.
Simmer for 5 minutes.
In a large skillet heat the remaining 1/4 cup peanut oil.
Peel bananas and cut into 1/2-inch slices.
Saute bananas until lightly golden on both sides.
To serve, place the rice in a serving platter, pour the onion sauce over the rice and top with the fried bananas.