Brown Rice Pumpkin Pudding
2Bleu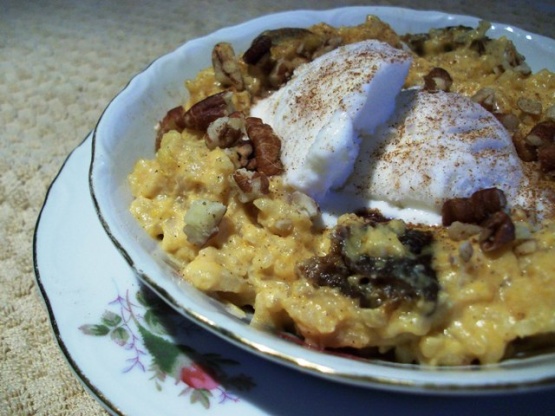 Using brown rice creates an additional nuttiness to this dessert, while the dried fruit, chopped pecans, and ice cream add wonderful taste and texture making this dessert very festive. You can use any dried fruit, just chop into smaller pieces if large fruit such as dried apricots, prunes, apples, etc. NOTE: I used a heavy non-stick 2qt pot, and medium-low on my stove is a 3.

I can't imagine ingredients burning over medium heat if watched closely and stirred, especially in a decent quality saucepan. I also think it is unfair to rate a recipe low based on poor cooking technique. Besides that, I grew up on rice pudding and I love pumpkin and thought this was a decent pudding made from both. Brown rice has a different, chewy texture, which I prefer, so don't expect this pudding to be identical to pudding made with with white rice. Overall, I liked it, had no trouble with milk boiling over or scorching, and will make it again! Thanks 2Bleu!
Place the rice in a mesh strainer and place under running water, stirring gently to rinse the rice thoroughly.
In a medium saucepan over medium heat, combine milk, sugar, and pumpkin pie spice DO NOT BOIL. Once milk has heated and sugar is dissolved, add the rice and stir. Reduce to medium-low and cover. Allow to cook for about an hour, checking/stirring occasionally to see if more milk is needed and how tender the rice is.
When rice is tender, remove from heat and stir in the pumpkin, cranberries, and vanilla. Serve warm in individual dessert dishes each topped with ice cream, a sprinkle of finely chopped pecans, and a light dusting of cinnamon.