COOKGIRl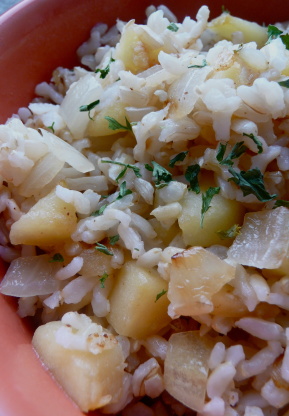 A Dom DeLuise recipe. He says this makes a healthy, filling and delicious breakfast or lunch. . .or a great side dish at dinner time. You may use instant brown rice, but make sure you follow the instructions on the box (as it may use more or less water and will cook much more quickly).

I can't imagine Dom (RIP Mr. DeLuise) having used margarine, can you? I substituted fresh local butter and when sauteing the onions and apples together-both of which were from our CSA box I added about 1 1/2 teaspoons of sugar to help them caramelize. Used Lundberg's organic long grain brown rice and we really liked it, simple to make and accompanied our dinner quite well: Recipe #405787 and an enhanced version of this: Recipe #126693 (added other veggies). Reviewed for Veg Tag/March.
Cook rice as per the directions on the package (usually bringing water to a boil, adding rice, returning to a boil, reducing to a simmer, cover and cook for 45 minutes).
In a nonstick pan, saute onion in margarine until transparent (about 3-5 minutes).
Add chopped apple and brown together for 5 minutes.
Add the cooked rice and heat through. . .tossing gently. Serve.