Brown Rice & Goat Cheese Cakes
Parsley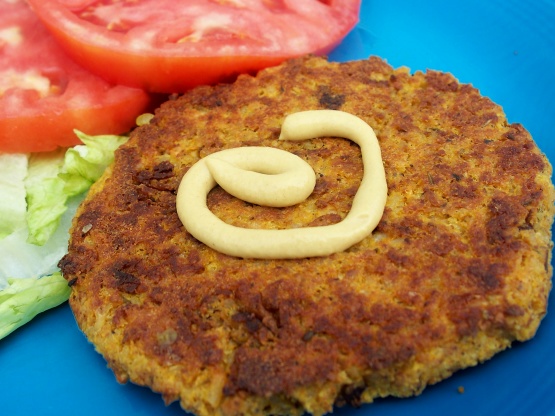 From Eating Well Magazine - I love goat cheese and pecans, so I had to try this! They have a nice flavor.

This was tough for me to make because I wasn't sure on "real" quantity of "scallions". I used regular yellow onions because technically, they are scallions but I'm not sure if I should have used green onions or something else. I'm better knowing number of cups. They didn't stay together very well at all for me so I think I must have done something wrong - therefore, I do intend to try to make these again. The taste wasn't bad at all - though my hubby thinks that I should add some salsa or some kind of spice to make them more moist. Mine were pretty dry. Made for PAC '08.
Bring rice and water to boil in medium saucepan. Reduce heat to low, cover, and simmer undil water is absorbed and the rice is tender, 30 - 50 minute Remove from heat and let stand covered for 10 minutes.
Meanwhile, heat 2 teaspoons of olive oil in a large skillet over medium heat. Add shallots and cook until soft, stirring often. Add carrots, reduce heat to low, and cook stirring often until carrots have softened and shallots are lightly browned. Remove from heat.
Preheat oven to 400 degrees F.
Transfer the cooked vegetables and rice to a large food processor. Add remaining ingredients. Pulse until well blended but still a little coarse. Scrape into a bowl, and with wet hands form the mixture into six 3 inch patties (about 1/2 cup each).
Heat remaining 2 teaspoons of oil in large skillet over medium heat. Add patties and cook until well browned, 3 to 4 min per side. Transfer to a baking sheet and bake until an instant read thermometer inserted into the middle registers at least 160 degrees, 10 to 15 minutes.
My family likes them best topped with a bit of fruit sauce made from jam (raspberry, apricot, cherry) thinned with a bit of balsamic vinegar and maybe a hint of dijon mustard depending on your tastes. Sounds a bit odd but it is good. But they are also good on their own.