Brown Rice and Spinach Casserole
Debbwl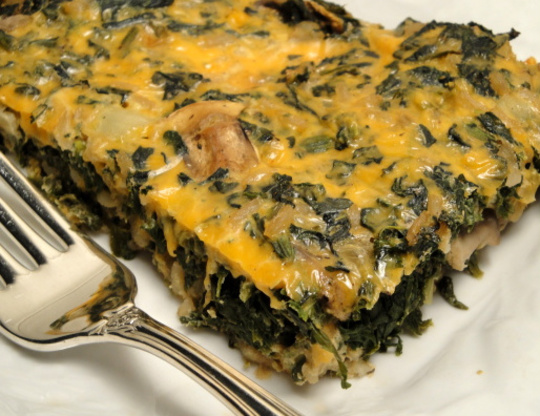 An easy, healthy, tasty casserole.

Top Review by Debbwl
A nice healthy casserole that I made even healthier by using fat free cheese and eggbeaters. Those were the only two changes I made. We both thought this turned out very nice. Next time will pepper cut the pepper to 3/4 of a teaspoon instead of a full teaspoon. Made in the morning and then DH just had to re-warm in the microwave for his lunch and it worked out fine. Thanks so much for the post.
Thaw the spinach (microwave "defrost" setting, or in a sieve under cool running water), squeeze out the extra water, set aside in the sieve to finish draining.
Beat the eggs, shred the cheese, combine, set aside.
Mince the onions, slice the mushrooms, or use already-sliced criminis (life is too short to slice mushrooms! IMO).
In a medium saute pan, on med-high heat, heat half of the chicken broth, add the onions and bring to a simmer. Allow the broth to nearly cook away, while the onions become brown. Watch it - don't let it burn. As the broth simmers away, add the remaining broth and the mushrooms. Lower the heat as needed to maintain a low simmer. Give the onion/mushroom/broth mixture a stir, and when just a bit of broth is left, remove the saute pan from the heat.
Combine all ingredients in a baking pan and put in the oven, at 325 degrees for 35 - 40 minutes.
VERY IMPORTANT: be sure to use already-cooked rice.
(About cooking the rice ahead - I make a large-ish batch of it, and freeze it in smaller containers; it reheats pretty well in the microwave or skillet.).