Brown Rice and Lentil Casserole
Tea Jenny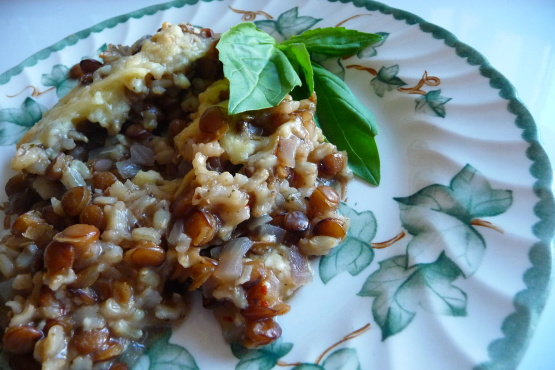 This is a great meal that we eat here often in the winter time. With some dark bread and maybe a salad it is a really hearty meal, though we have been known to eat just this for dinner. The recipe is adapted from Amy Dacyczyn's "The Complete Tightwad Gazette"

OMG this dish was soo good!!! I only changed a few things: I added a full cup of lentils instead of 3/4 cup, which helped to get rid of that extra liquid in the bottom. I also turned my oven up to 375 and cooked the dish for 45 minutes, plus 5 minutes for the cheese. It's better if you add carrots and more seasoning. I used ginger, curry, cayenne pepper, and more garlic. I would definitely make this again. Thanks Ladypit!!!
Preheat the oven to 300 degrees.
Mix all ingredients except the cheese in a baking dish (I use an 11 x 7).
Cover with foil and bake for 1 hour 10 minutes.
Then remove the foil, add the cheese, and bake for an additional 20 minutes.