Brown Rice and Carrot Pilaf
casey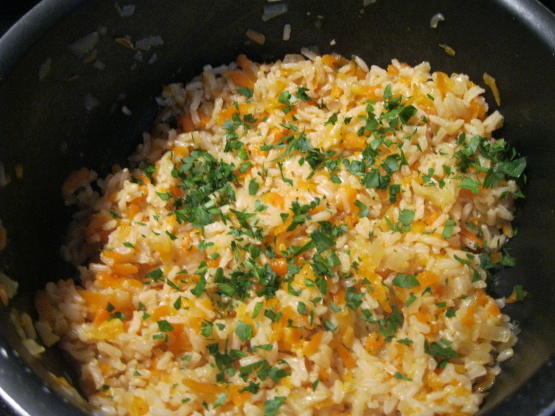 Use this as a side dish to a meal. It is a bit different than ordinary vegetables. This can also be a vegetarian meal.

Top Review by jan...
I'm always interested in recipes using brown rice and on the day I needed to make something other than just the rice instead of the usual potatoes, I looked this up. I am so glad to have found this!By way of this recipe and not having all the ingredients on hand, the result was a keeper. I only had chicken broth, no vegetable stock. The can of broth amounted to 2 cups so I needed another half cup of liquid. To try and keep in tune with the recipe, I added a half cup of water with a couple of teaspoons of Knorr Vegetable Soup mix in it. Also had no parsley or bean sprouts but added frozen petite peas instead. Followed cooking directions up to # 6 because I put the peas in at the same time as the stock. The rice absorbed all the flavors, and the vegetables were tender and tasty as well. Thanks, Tebo for a wonderful base recipe!
Melt butter in a 2 quart pan at med-high heat.
Add onion and carrot and cook about 5 minutes.
Stir in rice and cook until rice browns slightly.
Add stock and seasonings.
Cover and simmer until rice is tender, about 45 minutes.
Stir in parsley and sprouts just before serving.