Brown Derby House Salad With Citrus Vinaigrette Recipe
diner524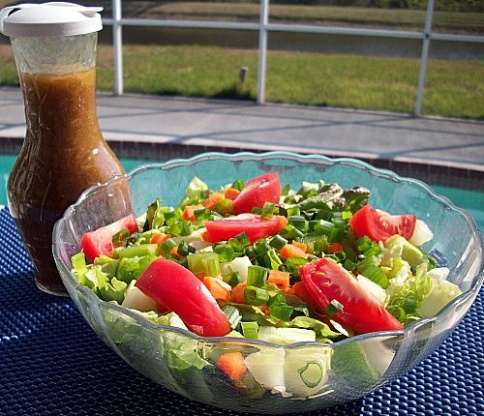 I love to eat, but am looking for some tasty ways to reduce my caloric intake. Salads are a favorite; and with this one I don't feel like I am sacrificing.
Fantastic!!! I made this to go along with our steak and baked potato tonight. I thought about making half the recipe, but with the citrus and vinegar combination, I was sure I would like this and I was right!! I used the ingredients I had on hand, which were red and iceberg lettuces, carrots, green onion and celery. I tasted the dressing right after making it and liked it, so once it sits for awhile, before dinner, I can only imagine how nice it will taste. I plan to add some shredded cheese when serving as well. Thanks Cooks4_6 for sharing the recipe. Made for New Tag Game.
To make salad, combine all ingredients in bowl.
Toss with citrus vinaigrette before serving.
To make dressing, in measuring cup, combine all juices and balsamic vinegar.
Add enough apple cider vinegar to make 1/2 cup, which should be about 7 Tablespoons.
Pour into mixing bowl or blender, with mustard.
Slowly incorporate oils while mixing.
Add the zests, and season with salt and pepper.