Brown Butter Creamy Apple Pie
awalde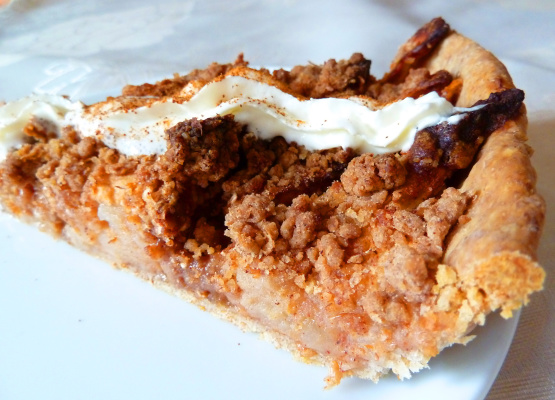 A Pillsbury Bakeoff Recipe from Lola Nebel of Cambridge, MN. Sounds like a nice alternative to the traditional apple pie. Perfect for holiday baking.

Super easy pie to make. Great flavor. I think that the filling needs some cinnamon other than that its fantastic. I will make again. I think the hotter it is the better it taste. Everyone enjoyed. Thanks for posting I made for 123 hits.
Heat oven to 400°F Place cookie sheet in oven to heat. In 1-quart saucepan, cook 1/4 cup butter over medium heat, stirring constantly, until melted and lightly browned. Cool completely, about 15 minutes.
In large bowl, beat 1/2 cup granulated sugar and the egg with wire whisk until light and fluffy. Beat in 2 tablespoons flour and 1 teaspoon vanilla. Beat in cooled butter. Gently stir in apples. Pour into crust-lined pan.
In medium bowl, stir together all streusel ingredients except butter. With pastry blender or fork, cut in 1/4 cup butter until mixture looks like coarse crumbs. Sprinkle over apples. Place pie on cookie sheet in oven.
Bake 20 minutes. Reduce oven temperature to 350°F and cover edge of crust with strips of foil to prevent excessive browning. Bake 40 to 50 minutes longer or until apples are tender and crust is golden brown. Cool 2 hours.
In small bowl, beat whipping cream until soft peaks form. Add remaining topping ingredients; beat until stiff peaks form. Pipe or spoon onto pie.