Julie E.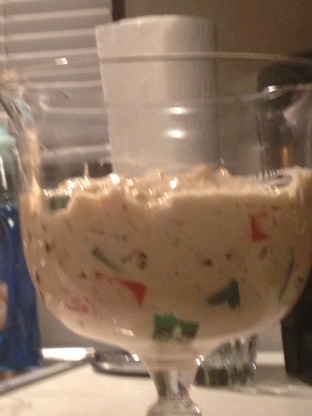 This salad creates a beautiful display in a clear glass bowl. It uses three different colors of jello which are covered in a creamy, sweet pineapple, lemon sauce. It is a holiday favorite. I received this from my friend, June. Chill time should include allowing jello to set and then allowing the whole dessert to chill for 5-8 hours or overnight.

This had really good flavor, but I used the full 8 oz of cool whip and I think that was too much and was my fault. I would also have the lemon jello mixture quite cold before adding it to the cool whip. Mine was maybe luke warm and it turn quite running. This wasn't quite what I remembered from my childhood, but it was good.
Prepare lime, strawberry and orange jello separately, using 1 cup boiling water and 1/2 cup cold water for each package of jello. Pour into separate 8x8 inch separate pans.
Chill until firm.
Drain pineapple. Heat reserved pineapple juice to boiling point. You should have one cup of juice. If you have to, add water to equal one cup liquid.
Add lemon jello to boiling juice.
Remove from heat.
Add sugar.
Stir until dissolved.
Add 1/2 cup cold water.
Add 4 oz. cool whip and pineapple. Stir well. you may add up to another 4 oz. cool whip if you need it. Pineapple mixture should be slightly thick and not too runny.
Cut jello into 1/2 inch cubes.
Fold into pineapple mixture.
Pour into glass bowl.
Chill 5-8 hours or overnight.