PWatt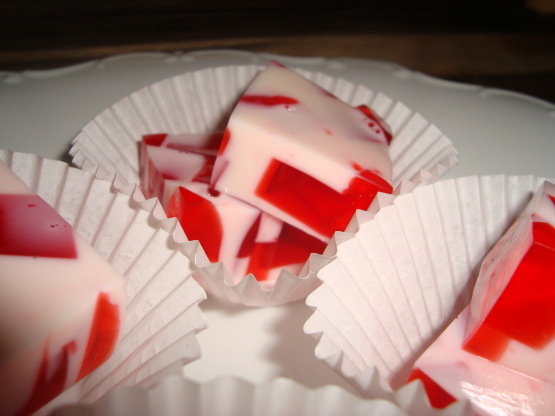 This recipe is from a blog online. This dessert is very colorful (use your imagination for the colors that look good together). I recommend red, blue, yellow and green. Kids will love it! "Zaar wouldn't let me post 2 envelopes of unflavored gelatin (like Knox). The envelopes are .25 oz. each.

Love it. So pretty. Make it for Christmas with lime and cherry.
Dissolve each box of jello separately, into one cup of hot water. Pour into individual containers (square) and chill overnight.
Cut flavors of jello into small blocks.
Mix together carefully in a 9 x 13 inch pan.
In a separate bowl, dissolve 2 envelopes of unflavored gelatin in 1/4 cup cold water. Add dissolved gelatin to 13/4 cups hot water and condensed milk. Cool.
Poor cooled milk mixture over jello and chill overnight.