Broiled Tomatoes With Olives and Garlic
Derf2440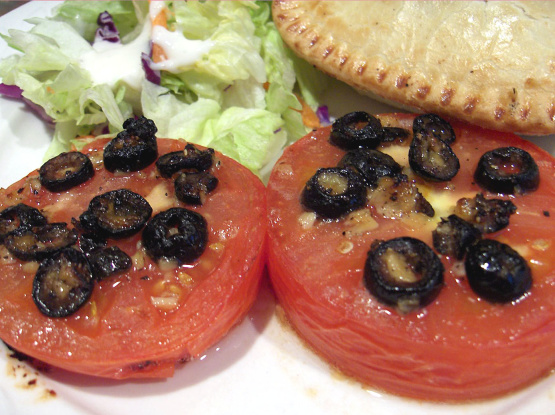 A few simple ingredients are all you need to add to your garden tomatoes.

ohhh yum! So delicious! We loved these, what a great way to serve fresh tomatoes. I had to use sliced black olives because that was what i had in, they worked beautifully! Served them as a side with salad and a steak and kidney pie. I will be making these again and often during tomato season, thanks for posting!
Preheat broiler and set oven rack about 4 inches from heat source.
Combine olives, garlic and olive oil.
Slice tomatoes about a half inch thick and arrange on a lightly oiled baking sheet, in one layer.
Brush tomatoes with the olive and garlic mixture.
Broil, watching carefully, until just bubbling or to your liking.